TheSudricLegend (aka Riley/Oliver) is a voice actor for
Quest 89
.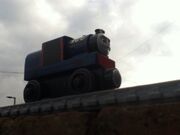 Series ContributionEdit
Oliver provides voice work for the series.
Due to being Nick's closest friend in the community, Nick tells most of his ideas to Oliver and shows him tons of behind the scenes content that most viewers do not see. Oliver usually responds with "Coo" or "I'm intrigued." 
Oliver, being a resident in the United Kingdom, is the British consultant for the series. Nick is an American and doesn't understand English culture, architecture, slang, and other things as well as Oliver. Often, Nick shows set pictures and scripts to Oliver to ask get advice and criticisms. Then, Nick can change make changes for the future to make the setting more believable.   
CharactersEdit
​Nick decided to give Oliver the role of Timothy after Oliver did an intimidating sounding voice in a game of Cards Against Humanity.
Oliver works on a collab series, The Sudric Legends, with Ryatron 12, another voice actor. The series will eventually cross over with Quest 89 in, Sudric Legends 89.